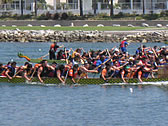 Dragon Boat racing is a water sport dating back to China about 2,000 years ago. It is a mixture of different exotic events that highlight the cultural of the Chinese. The sport involves a number of different qualities such as teamwork, leadership and a competitive spirit to win. One of the main objectives of this sport is to have fun.
John Winkler started the San Pedro Dragon Boat team, as he has a love for water sports and wanted to share his passion with his friends and neighbors. In 1998 there was a small story about Dragon Boat racing in the Daily Breeze newspaper. The article went on to give a short description and said that anyone could participate. It said that you just needed 18 paddlers, drummer and steer person and each team gets their own tent at the event.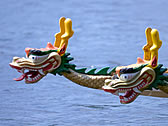 The Long Beach Dragon Boat Festival had its first cultural competition in 1996. The person behind the festival was Dr. Howard Chen who saw this festival grow over the years, as there are now over 150 teams in many divisions that compete each year.
One of the highlights for Winkler was back in May 2001 in that there was a talent show leading up to the main event of the L.B. Dragon Boat Festival. The S.P. Dragon Boat Club put together a skit that had many of the team members participating. The skit involved a small stage and it was a comedy farce of making the team members look like midgets or small people. The message that we conveyed was that our team was defending its title and we were going to get first place in our division. For about 6 years the team won many trophies and is still a contender today.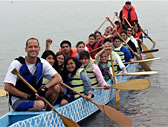 The original team was called the San Pedro Dragon Club. In 2000 Kevin Faciane became Captain. In 2001 Frank Sardegna was Captain till 2006. In 2007 John Winkler was Captain. In 2008 the team was re-organized by Bruce Heath and is now called the L.A. Harbor Dragon Boat Club. About 2009 Patrick Corley became Club Director/Coach to 2011. In 2012, Dave Turple became the Club Director/Coach. Finding a place to practice was through Pam Sanders/Cabrillo Youth Center Director who graciously has helped promoted the sport and has been the key player in providing a first rate facility.
In 2005 John Winkler put together a high school team from the Boys and Girls Club in San Pedro. John wanted to give these kids a chance to try a different sport. This is an opportunity that shows these kids that there is more to the world than what's in their environment. Many of the teenagers in the program had come from low-income, inner-city backgrounds. Few have had much exposure to the ocean, none of them had even heard of Dragon Boat racing before the Boys and Girls Club recruited them for the team.
In 1998, the original club was made up of longshoremen, computer nerds and aerospace workers. It is a very diverse group of people and was made up of men and women from many backgrounds. The L.A. Harbor Dragon Boat Club had expanded to include a Youth team under the direction of Marie Chacon. The new youth coaches since 2012 are Geoff Pasek and Paul Puskar.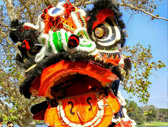 One of the aspects of the sport that keeps people coming back each year is that there is camaraderie and a respect for the many talents and traditions of the teams that participate. It takes a lot of skill to actually win a trophy, as the competition is very high. There is also the goodwill and sportsmanship that is demonstrated by all of the teams. Starting with the solemn opening ceremonies and the Chinese traditional art demonstrations, Chinese Acrobats, traditional dance, hip hop, music and martial arts performances. It is truly an enriching event for one and all. Come join us for all the fun, food and excitement.