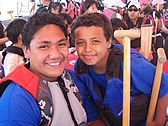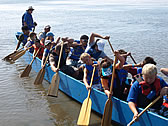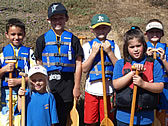 Our rules are simple. Have fun, be responsible and SAFE!
Member Responsibilities:
Always be courteous and friendly
Dispose of all trash in appropriate receptacles
Treat all gear and equipment with respect
Show good sportsmanship
Water shoes or bare feet (no flip flops)
Use only the outside bathrooms. Do not go into the building in your wet gear or equipment
Always go places with a buddy
Follow all adult instructions
Rules While Boating
All boaters must wear properly fitted, U.S. Coast Guard-approved lifejacket
If a boat swamps or capsizes, all team members must stay near the boat and wait for rescue
If a paddle breaks/drops, do not attempt to rescue it
Paddle from a seated position. No kneeling or standing in the boats.
ALL TEAM MEMBERS ARE RESPONSIBLE FOR THE CARE OF THE BOATS – TAKE DOWN AND CLEAN UP.
No dragging the boats on land.
Things to Bring
Sun screen
Water shoes
Bathing suit or clothes which you can get wet
Towel
Drinking water
Sun glasses
Hat
POSITIVE ATTITUDE
WILLINGNESS TO TRY