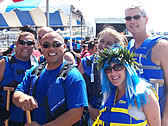 We paddle all year long and form racing teams in April for competition in the spring, summer and fall. All ages over 18 are welcome. Anyone that wants to enjoy the beautiful water, have fun, appreciates a team activity, wants a great workout, and wants to meet great people is a candidate for our club. We have adult co-ed, men's and women's teams.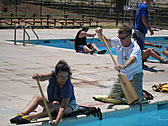 Teams practice once a week from November – March and twice from April through October.  Sometimes a third practice is added June and July in preparation for the Long Beach Dragon Boat Festival. Practice times are Sunday mornings 8:30-10:15 am and mid-week Wednesday 6:15-7:45 pm.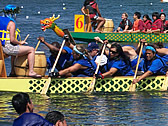 You are invited to try it out up to three times before making a decision to join our club. Our objective is to have fun while paddling at our best, so if this sounds like fun, then bring it on!
Annual membership fee for 2019 is $125 and includes:
LAHDBC Membership
Club T-shirt
Boat and PFD fee
Race participation is optional and costs appx $30 per race
We have all the necessary equipment for member use and we can help you purchase your own at a discount.